XO Boats is proud to share that our XO DFNDR 8 has been chosen as one of the finalists of Best of Boats awards, in category Best for Performance. All the nominated boats have been throughly tested by several members of international jury of boating experts and boat journalists, and the winners will be announced in Boot & Fun Berlin 2023.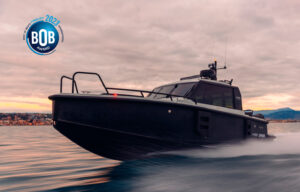 The DFNDR 8 is the sister model for award-winning XO DFNDR 9. With twin engines, agile XO DFNDR 8 can reach +50 knots of speed. Although the boat is smaller than other recent XO models it still maintains the uncompromising attitude and resilience of a true XO. This powerhouse combines all the fun elements of boating with glorious speed, and XO's unique and renowned driving qualities, making it the perfect nominee for this category.
We thank BOB-awards for this exquisite nomination!
More information about Best of Boats can be read at bestofboats.com!